On March 1st Amazon.com is making a fairly substantial change to their commission structure. In the past they had a tiered structure based on the number of units you sold. Their commission rates started at 4% and went up all the way to 8.5% if you sell more than 3131 items per month. This was a great structure for some larger affiliates who could drive significant volume. Even if you just sold 7 items you got bumped up to 6%. Some categories had their own commission structure but the vast majority of products sold on Amazon were included in this tiered structure.
With the new commission structure Amazon is doing away with the volume based tiers and they are going to flat rates for different categories. Here is their updated structure: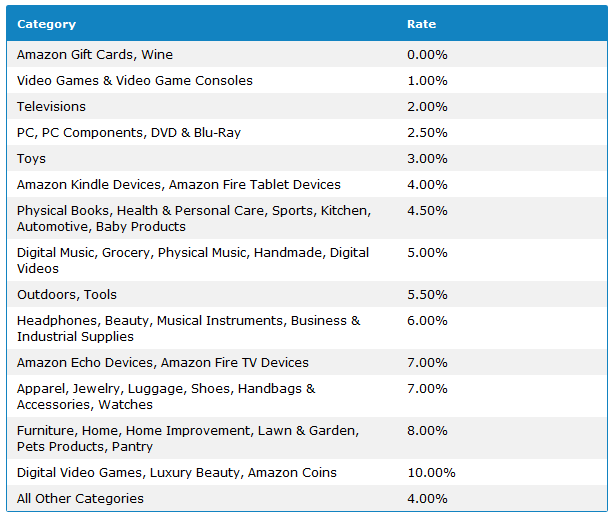 You can read more about the new commission structure here.
For some bloggers and content providers this new affiliate commission structure could work out well. For example, if they only make a few sales a month and are pushing furniture at an 8% commission that will earn them more commissions vs. the old structure. But for most affiliates who can drive significant volume this new structure will probably cut their commission checks by 20-40% or more.
So why is Amazon changing their commission structure? Well, I can only guess but here are a couple ideas…
First, I would venture to say that a very large majority of the sales coming through the Amazon affiliate program are not incremental sales meaning the customer would have purchased without the affiliate involved. Of course this doesn't describe every sale but since Amazon is so big I believe most people looking to buy a product would probably have bought there anyway. Think about these examples and see if they sound familiar:
There are many times where I am ready to buy something on Amazon and then remember "hey, let me get one of my friends a commission" and go out to their sites and come back through their affiliate link. Amazon is paying out a commission on this sale where the affiliate really added no value, it was just a way to make my friends a couple bucks.
I know of one community of rabid fans that had an affiliate link on their forum to support their site. Nothing wrong at all with that. But they told users to just bookmark the link and shop through it anytime they shopped at Amazon. Again, the affiliate really didn't bring any value here, the users just wanted to help them out and shop through their link.
On Facebook I have seen many people (especially around the holidays) post a link saying something to the effect of "Hey, you are going to buy at Amazon anyway, just use my link and make me a few bucks".
I don't really fault the affiliates in these cases and they aren't necessarily doing anything wrong but they really aren't providing any real value to Amazon. Amazon is smart enough know this and probably has a good idea what percentage of sales fall into this category so they drop their commission accordingly.
Second, if you look at their main competitors in the retail affiliate space (I would say Wal-Mart and Target are the two big ones that come to mind) Amazon was paying a higher commission. Target has been messing with their commission structure for a couple years and Wal-Mart is at 4% for most categories and as low as 1% for others. Amazon was paying significantly more than that so cutting their commission to stay in line with the competition makes total sense.
Again, those are only some guesses but they make sense to me.
If you are an Amazon affiliate and will be negatively impacted by this change what should you do? Well, of course I have a few ideas:
Look for other merchants to work with.
Amazon isn't the only retailer in the game. Yeah, they are the biggest but there are thousands of other merchants out there with affiliate programs and many of them have higher commission rates (and longer cookie durations) than Amazon. Look around at the different affiliate networks (I am partial to Shareasale.com and Avantlink.com) and find merchants that sell the products you are promoting through Amazon.
Here is a quick example. Say you had a blog post on Himalayan salt lamps and you were linking to Amazon. With the new commission structure you would be earning 4.5% on your sales. If you were to work directly with a merchant like HimalayanSaltShop.com you would earn at least 20% selling the same products.
Another example (disclosure: I work for Fanatics.com): If you had a blog post talking about the MLB Spring Training and had some links to products at Amazon.com you would be earning 4.5% on those sales. Switch those links over to Fanatics.com and you would be earning 10% per sale.
And one more example: Spanx are sold on Amazon and you can earn a commission there but you could also work directly with Spanx.com and promote them through their site and not through Amazon. Spanx.com has free shipping on their site to compete with what the customer gets with Prime but you would also have a great, responsive affiliate manager to work with rather than the faceless Amazon machine.
OK, one more. Lenovo has an affiliate program that pays 5% but on Amazon you will only get 2.5% for sales of computers.
I could keep this up all night but you get the idea. For pretty much every product you are promoting on Amazon there are options to work with other merchants, earn a higher commission, and actually have some support from the affiliate mangers.
Find other merchants to work with
No, seriously. I mean it. There are hundreds of merchants who would love to be in business with you and who would love to have the quality sales you are driving to Amazon. Shareasale has over 4,000 merchants and Avantlink has over 500 to choose from. There is sure to be some merchant out there selling the same products you are promoting through Amazon and would gladly work with you directly. And it would make sense.
Let's say there is a merchant selling on Amazon and also selling the same product on their own site. They are currently paying Amazon 15% per sale (it can vary but 15% is the standard) so it would make much more sense to work with you at a 10% commission.
Take a few minutes and put together a list of your top selling products or product categories on Amazon. Take that list and search in the affiliate networks to see if you can find the same product or similar products from other merchants. Heck, send me the list and I will give you some ideas of merchants you can work with.
Merchants everywhere should be jumping at the opportunity here. If you are driving a couple hundred sales to Amazon a month for a specific product any good merchant should be willing to bend over backwards to work with you. You have already proven you can drive sales and it will only take a few minutes to switch over some links. Use this leverage to negotiate higher payouts and performance bonuses. An email along the lines of "Hey merchant, I am currently selling around 200 of this product per month through Amazon from this blog post I did a year ago. If you can set my commission to 12% instead of the standard 10% you pay I would be happy to switch my links over today" should do the trick. Be specific, show them the sales and where they are coming from, and they should jump at the chance to work with you.
Provide Incremental Value
Most smart merchants have at least a general idea of what constitutes an incremental sale. Any good affiliate manager is looking for affiliates that can drive incremental sales. Just posting a link and telling people to shop through your Amazon link so you can make a few bucks isn't going to cut it. You need to drive value of some sort.
Here is a good example I remember… Back in December Amazon had their beauty box for $11.99 where you got $11.99 credit for a future purchase. Awesome deal. I saw it all over deal sites everywhere and many people were posting on their social channels about it. Amazon was promoting it heavily on their site so it was very visible. Many of the people that were promoting this weren't really adding value, they were just throwing up a link hoping to make a few bucks but one affiliate I know took it to another level and did a Facebook Live video showing the contents of the box, talking about why it is a great deal, and so on. Sunshine Rewards actually provided value to Amazon by promoting this product in this way and not just posting a link.
Now there is really nothing you can do about your Amazon commission but if affiliates continue to drive non-incremental sales to merchants there will be more following suit and dropping commissions. Many merchants are looking at incrementality on an individual affiliate level and if they are seeing a lot of sales from returning customers, people who were ready to buy but hopped off just to get an affiliate link, customers who had hit other marketing channels, etc. they will (and should) start setting up commission rules that will cut commissions for non-incremental behavior. On the flip side many of them will set up rules that reward incrementality.
Talk to your affiliate managers and get some ideas from them on what you can do that provides value and what they look for in a quality sale. Ask them for ideas on how you can use your audience to drive those sales and I am sure they will have some ideas for you.
Let me know if you have any questions on any of this. Leave a comment below and I would be happy to help answer. If you need some recommendations for merchants you can switch your links to let me know that as well and I would be happy to give some suggestions. Yeah, merchants cutting their affiliate commission can suck but you have options to earn that money back.
Greg Hoffman of Apogee Agency also wrote his thoughts on working direct with merchants vs. through Amazon.
The post Will the new Amazon commission structure affect you? appeared first on What Does Joe Think.